Men Make a Comeback in $75,000 Battle of the Sexes

Wellington, FL – January 11, 2020 – The first "Saturday Night Lights" of the 2020 Winter Equestrian Festival (WEF) featured the crowd-favorite $75,000 Battle of the Sexes, presented by Wellington Regional Medical Center, which saw the Men's team return to the top of the podium. Earlier in the day, Adrienne Sternlicht topped the $25,000 CaptiveOne Advisors 1.50m Classic, and Inquisitive was named champion in the Small Junior 16-17 Hunters on Saturday, January 11, at the Palm Beach International Equestrian Center in Wellington, FL.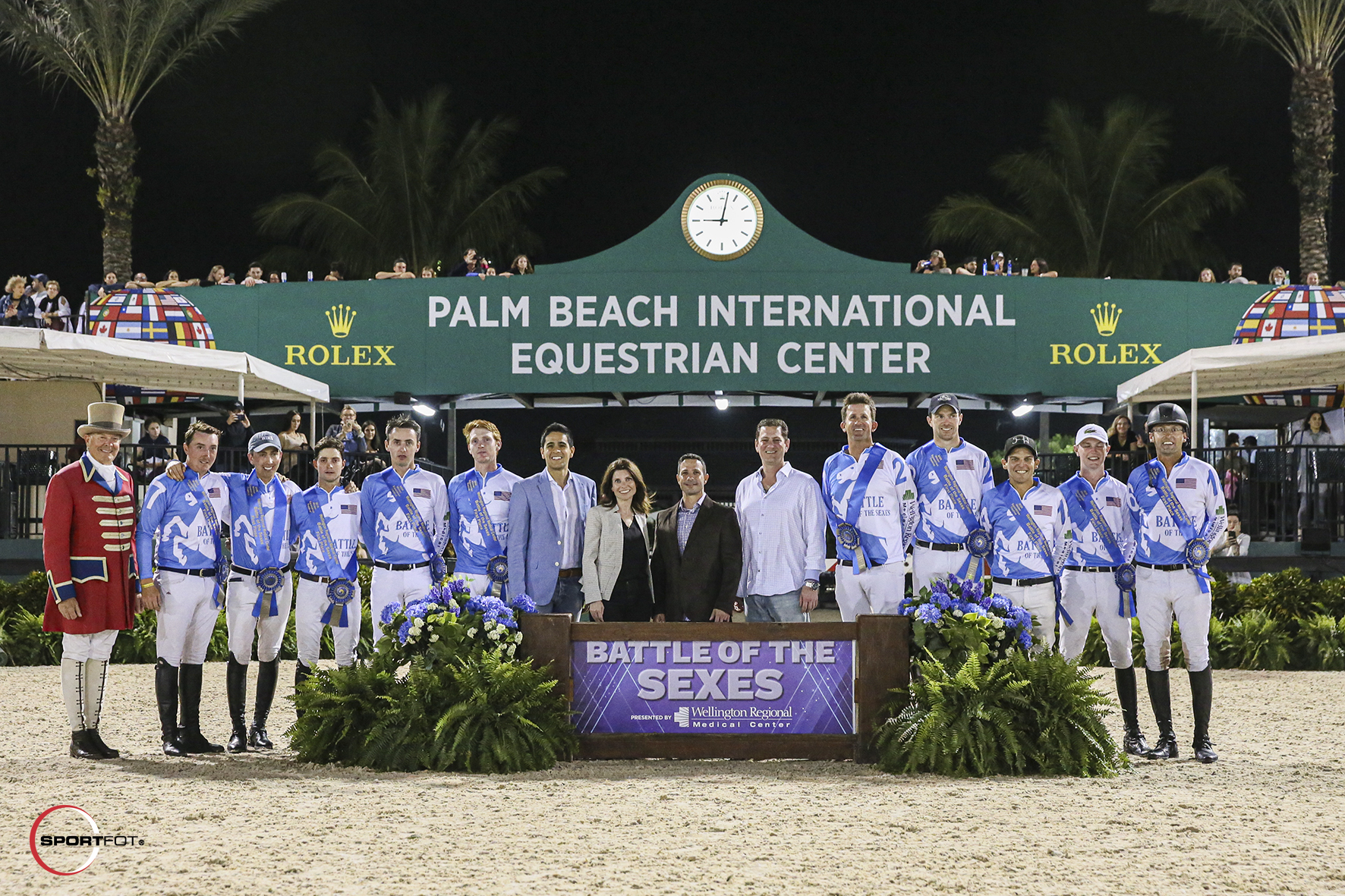 The winning men's team with ringmaster Steve Rector and Administrator Diego Perilla, CEO Pam Tahan, Chair of Orthopedic Surgery Dr. Nicholas Sama, and Medical Director of Emergency Services Dr. Adam Bromberg of Wellington Regional Medical Center. Photo © Sportfot

WEF continues through March 29, 2020, with 12 consecutive weeks of world-class competition and $13 million dollars on offer. The first week of competition at WEF, sponsored by Wellington Regional Medical Center, concludes on Sunday, January 12, with the $75,000 Rosenbaum PLLC Grand Prix at 2 p.m. in the International Arena.

After unseating the women, who were the 2019 victors, the men's team is picking up momentum in the Battle of the Sexes with their second win in the class in three years. The men pocketed their first-ever victory in 2018, and on Saturday night, in the second-to-last match race, Ireland's Daniel Coyle sealed a win for his team with a final score of 29 to the women's 23.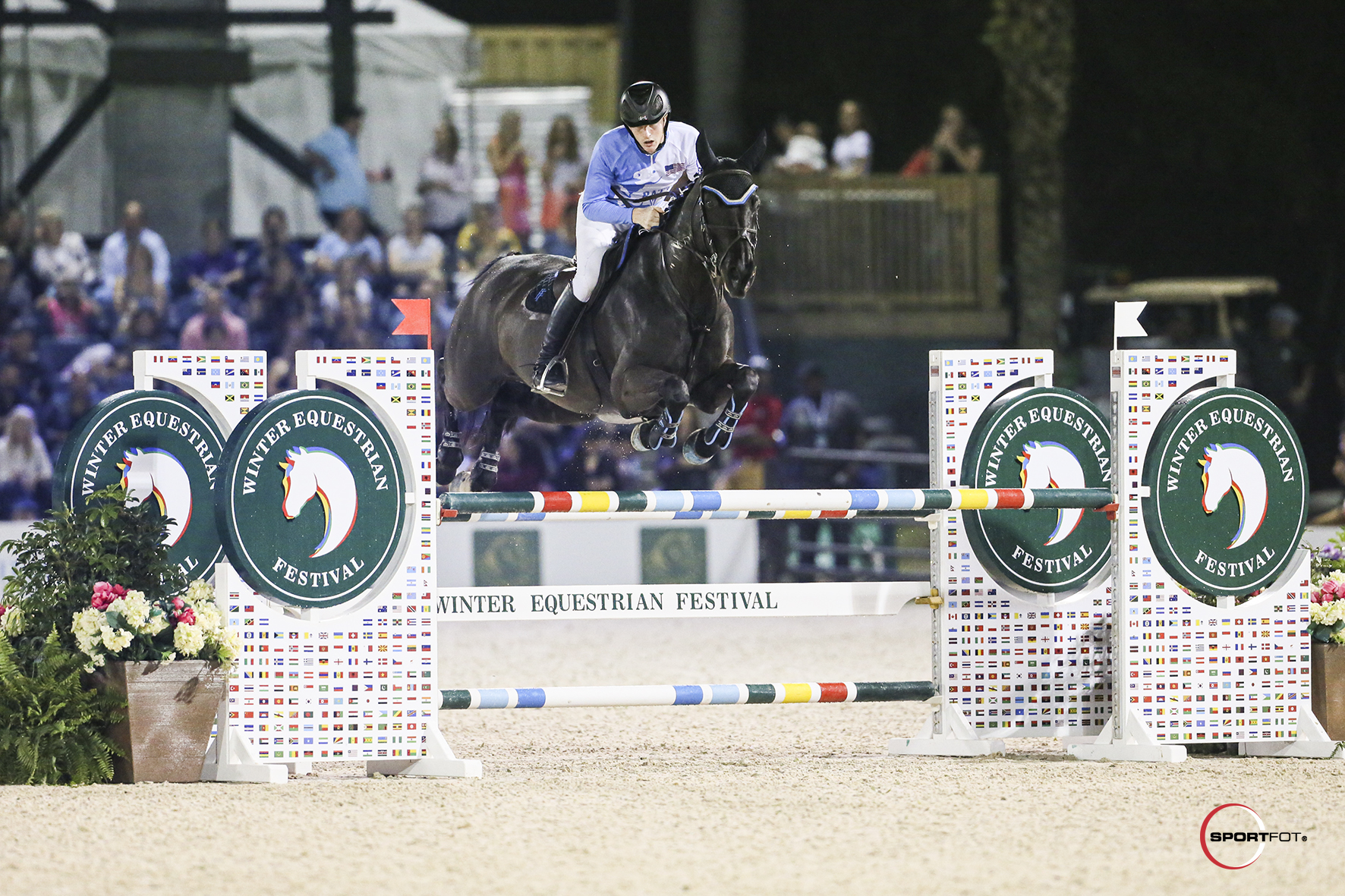 Daniel Coyle and Black Pearl. Photo © Sportfot

"The one thing that you get in these classes that you don't always get in other classes is the crowd really enjoys it because it's very easy for them to understand; the girl beats the guy, and that's who wins it," said Coyle of what he enjoys about the Battle of the Sexes.

Coyle was a last-minute add to the men's team on a borrowed horse after his brother and teammate, Jordan Coyle, convinced him. "He told me we could win it this year, so he found me a horse," said Daniel Coyle. "When I went in for the match race, Charlie said, 'I don't have to go if you can win it!' That's the last thing that you want to hear, but I can only say good things about this horse [Black Pearl], and thankfully we won it!"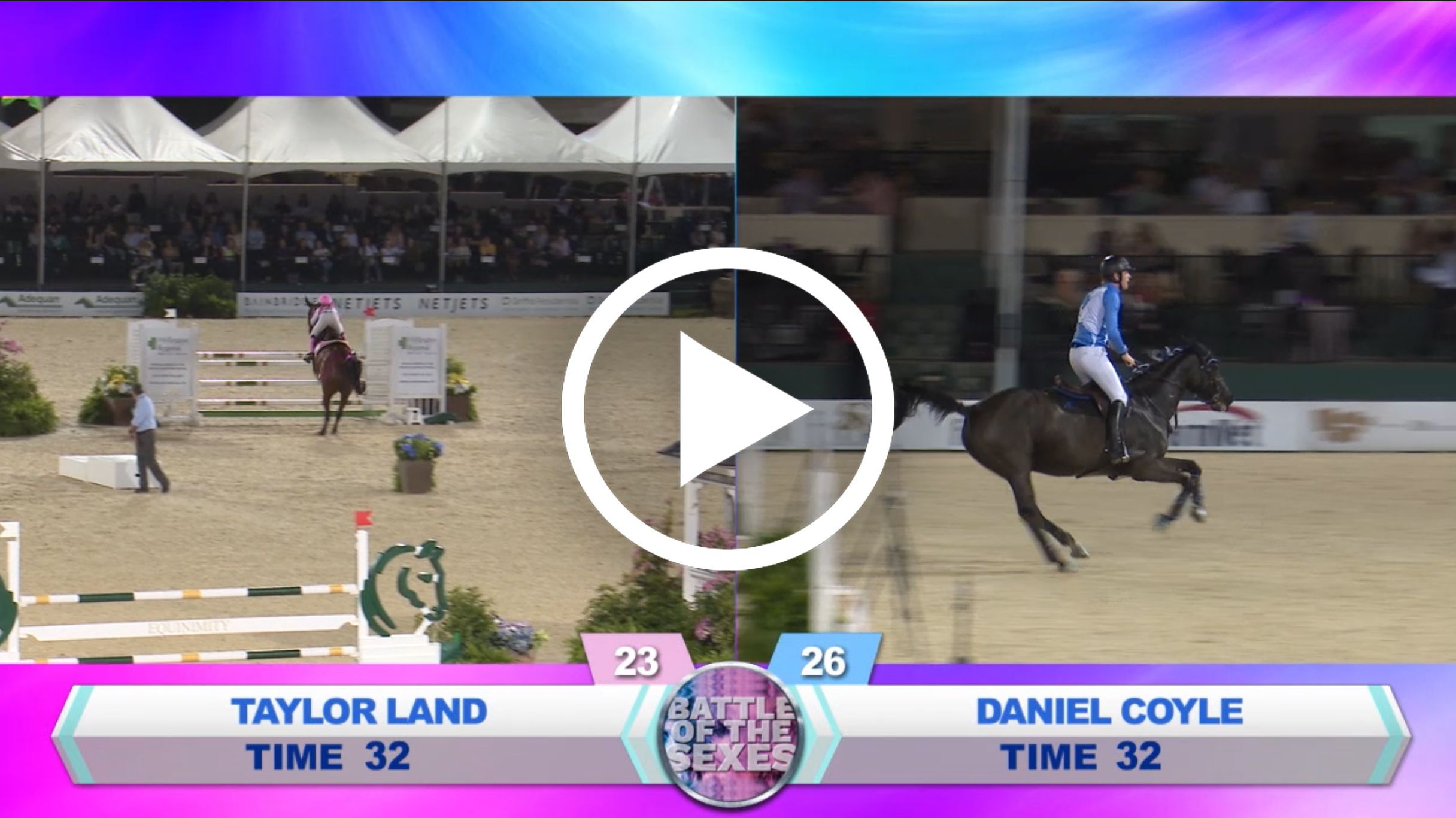 Watch Daniel Coyle and Taylor Land's match race. Courtesy of Richard's Equine Videos
After the opening speed round, the women were ahead six to four with Jessica Mendoza (GBR) posting the fastest time for her team in 51.38 seconds. Despite being behind on the scoreboard, Jordan Coyle (IRL) posted the fastest round of the night in a blistering 47.479 seconds.
The lead changed hands in the second phase, a relay, with the men winning the first two rounds to earn 10 points and take over the lead. But, competition was far from over after Hayley Iannotti (USA), Sydney Shulman (ISR), and Mendoza won three match races in a row. The win was too close to call until Daniel Coyle topped Taylor Land (USA) to propel the men to a 29 to 23 lead with only one three-point match remaining. With the guaranteed win, team captains Charlie Jayne (USA) and Nicole Bellissimo (USA) elected not to return.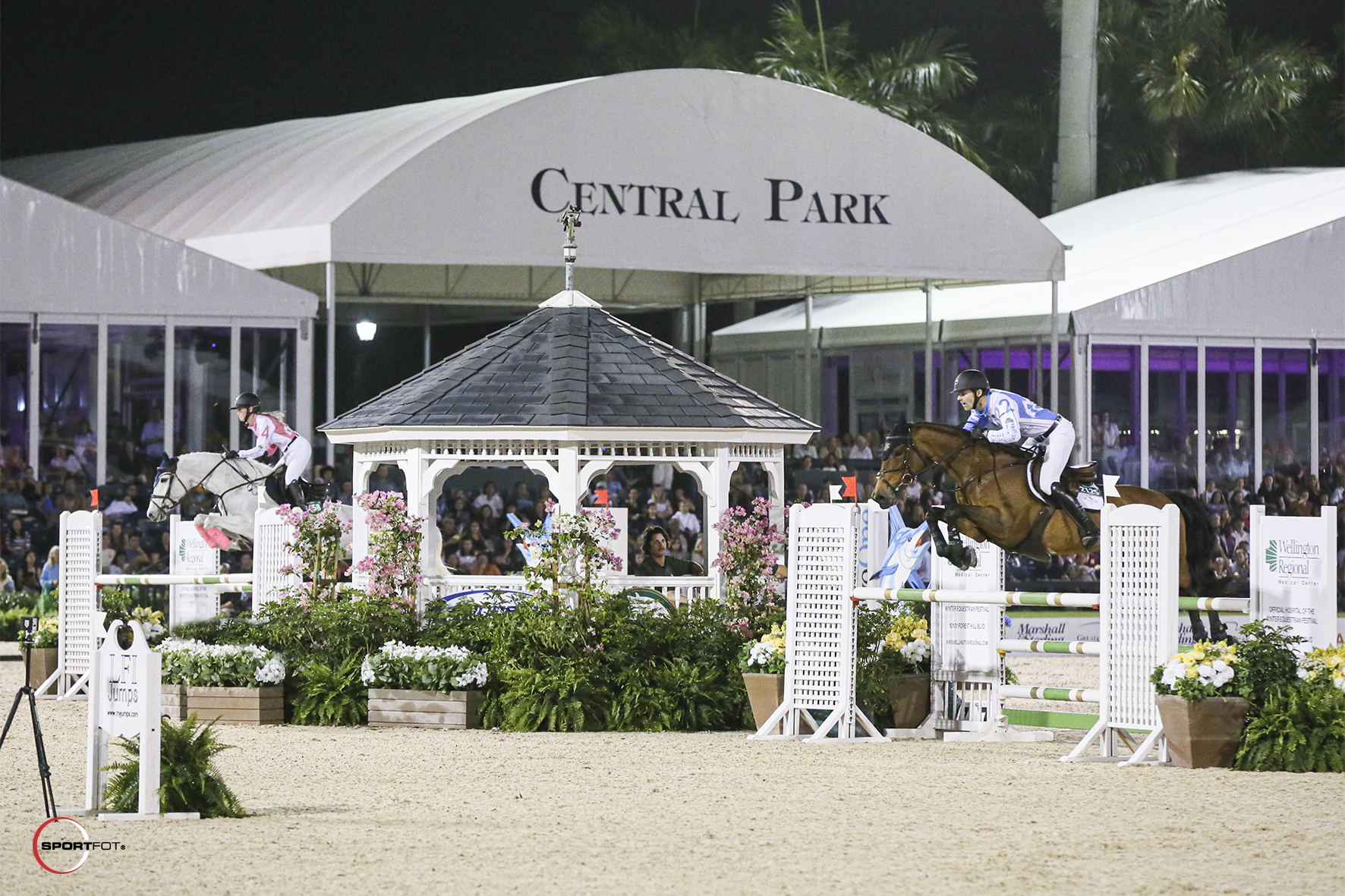 David Blake and Amanda Derbyshire in their match race. Photo © Sportfot

Bellissimo's team consisted of Heather Caristo-Williams (USA), Amanda Derbyshire (GBR), Iannotti, Land, Mendoza, Gia Rinaldi (USA), Shulman, KC Van Aarem (USA), and Ali Wolff (USA). Jayne's team was made up of David Blake (USA), Jonathan Corrigan (IRL), Christian Coyle (IRL), Daniel Coyle, Jordan Coyle, Harry Harding (GBR), Luis Larrazabal (VEN), Samuel Parot Jr. (CHI), and Michael Tokuruk (USA).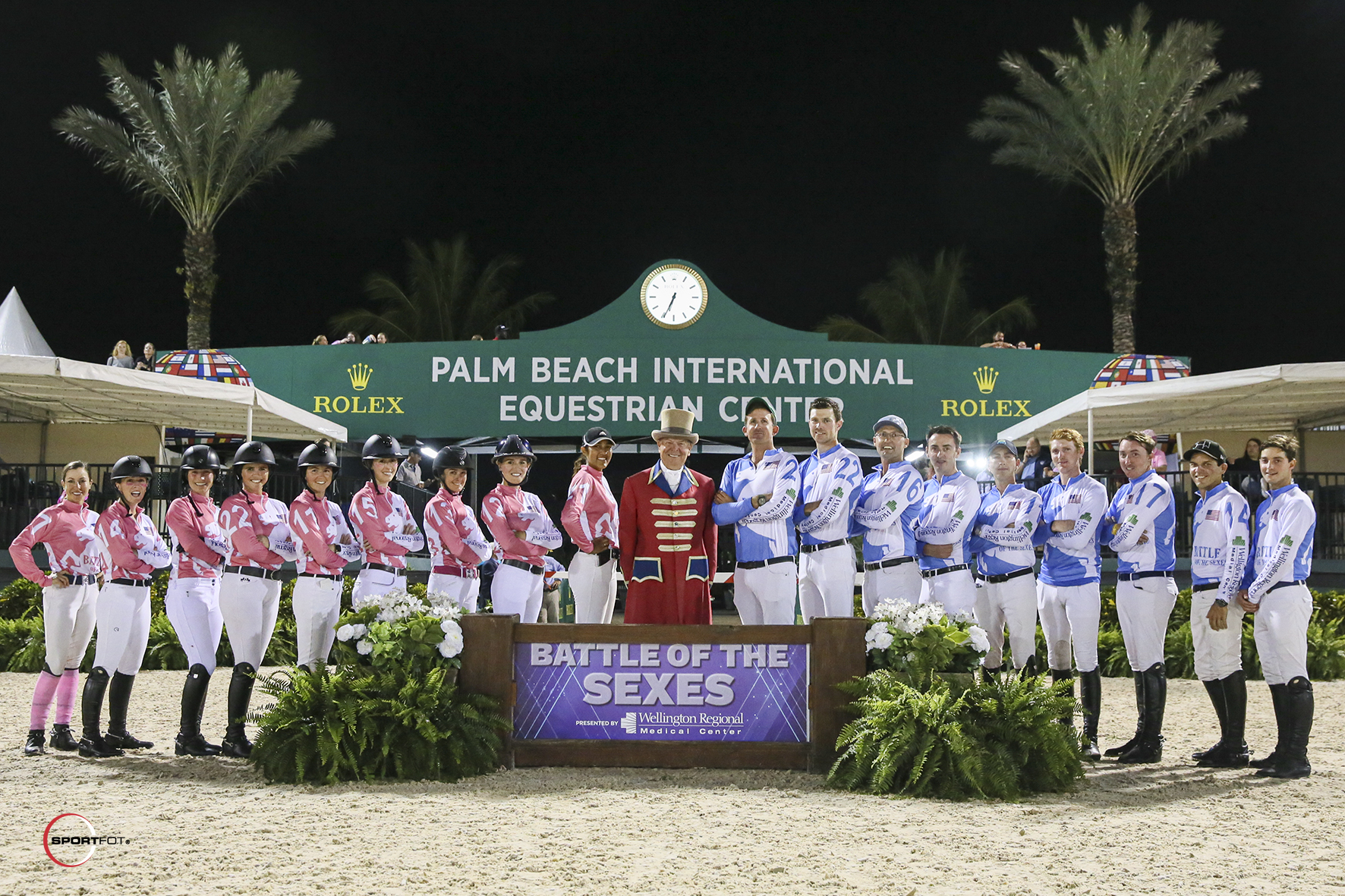 The Battle of the Sexes teams. Photo © Sportfot

"When choosing this year's team, I went for young, fast, and international," said Jayne. "We had a lot of different countries involved, and I thought it was great international sport. It was fast, it was exciting, and the crowd really got into it. In the end, it came down to the second-to-last rider, so it couldn't have been much better."